Herbst – Before & After Treatment
The Herbst Appliance is an excellent way to correct a severe Class II malocclusion (upper jaw considerably ahead of the lower jaw). It is frequently used in cases where the growth of the lower jaw hasn't kept pace with the upper jaw and the lower jaw appears small or retrognathic.
This functional appliance is used in growing patients. It repositions the lower jaw forward stimulating increased growth and places the jaw structures in balance with each other and with the rest of the face.
It can protect severely protrusive maxillary incisors by bringing the lower jaw and teeth in line with the upper teeth. It can also be used to correct midline asymmetries, severe deep bites, and to distalize maxillary posterior teeth. It is cemented in place acting continuously to give optimal skeletal change.
Severe Class II treated with Herbst appliance and braces
(Class II before Herbst appliance)

(Class II after Herbst Appliance and before braces)


(Final results after braces)


Facial changes with the above treatment plan (Before & After)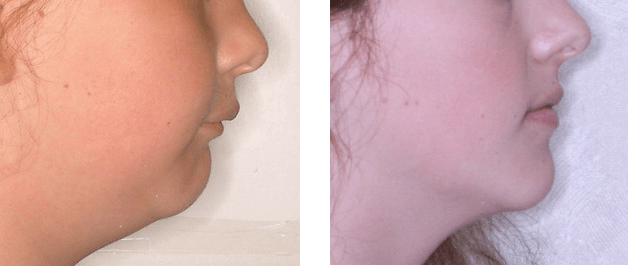 Severe Class II deep bite malocclusion treated with Herbst appliance and braces
(Class II before Herbst)

(Class II after Herbst appliance and before braces)


(Final results after braces)

Facial changes with the above treatment plan (Before & After)


Class II open bite malocclusion treated with Herbst appliance finished with braces
(Before)

(After)

Severe Class deep bite malocclusion treated with Herbst appliance and braces
(Before)


(After)